Automatic machine for cardboard boxes production
Boxmat 2 is an economical and versatile machine designed for short series corrugated boxes production and having an excellent price to performance ratio
Precise one-step formating of boards
45 preprogrammed FEFCO styles
Boxmat 2 is a boxmaker specially designed for cardboard boxes production from short to medium runs. Machine can make standard FEFCO and  RSC corrugated boxes. With less than 60 seconds setup time, the machine can make boxes of virtually any size and style: from regular small boxes to large wraps and pallet boxes.
Boxmat 2 is designed for companies requiring in-house production of corrugated boxes and flexibility of a quick box size change. Slitting, creasing, removing excess board and glue flaps is all done in one pass on one compact machine – without the need for additional modules. The machine makes boxes out of single or double wall corrugated cardboard.
The use of Boxmat 2 machines allows efficient manufacturing of a single box or hundreds, depending on the demand. With a maximum cardboard width of 2500 mm and no restriction on length, Boxmat 2 can produce large or small boxes with ease. All settings are entered directly from the touch screen panel thanks to a tool and die free setup. In less than one minute you can set up a preprogrammed corrugated style FEFCO boxes in any size or the style stored in internal memory (1000 recipes capacity). Machine is equipped with 12" touch screen panel with dedicated unique software.
The blank sheet is positioned to the left edge with automatically set bumper. This feature allows for the use of razor blade knife for cutting off the cardboard excess and glue flap. Board size adjustment is made without the need for precutting the blanks to the exact size (on a separate machine). Soft grip rolls and solid input/output shafts provide precision board feed control and prevent skewing. The use of a special anti-slip feeder assembly preventing cardboard skewing allows smooth and even feed through of small and large blanks. The slotting and creasing assembly has a special hardened steed feeding roll for increased precision and extended productivity.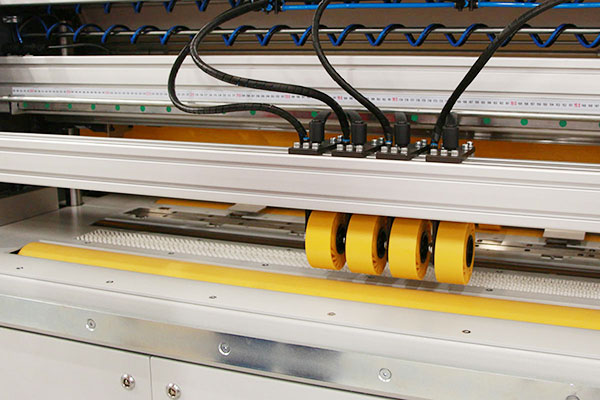 Manualy set pressing rolls
Knife for removing excess board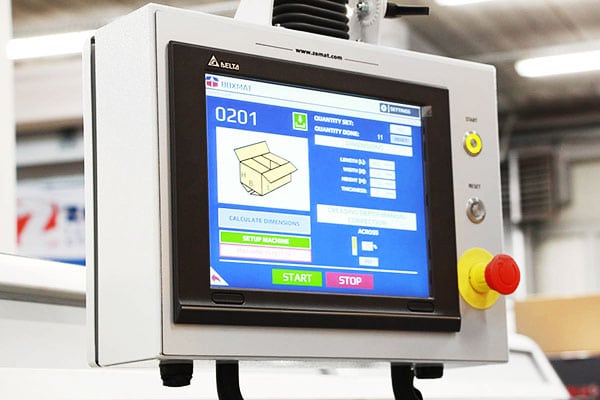 Zemat Boxmakers are the most modern machines providing such capabilities and ease of use while maintaining competitive and good price. Furthermore they allow to lower the logistics costs since there is no need to order large quantities of one size boxes to have low cost.​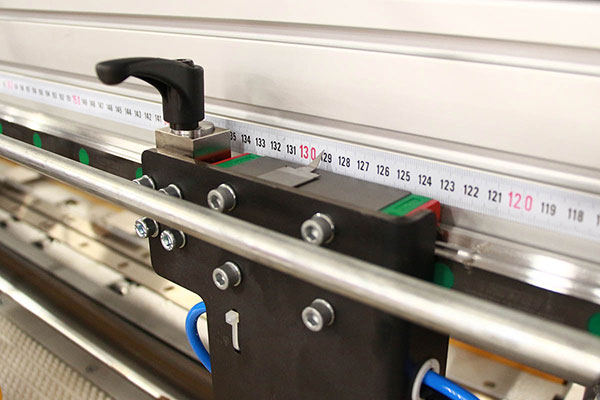 KNIFE MANUAL SETTING
PRESSURE MANUAL SETTING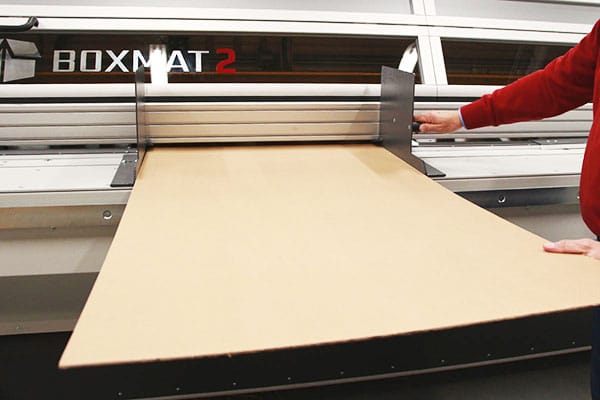 RIGHT SIDE POSITIONING
SECTIONAL SLOTTING KNIVES
BOXMAT 2 - The Perfect Boxmaking Machine!
Preinstalled 45 FEFCO styles + free style

3 x 380/415/480 V (USA: 3 x 480 V / 20 A)

250 (10″) mm width x 550 mm (21 1/2″) length

2500 mm (98″) width x 9000 mm (354″)

Distance between slotting knives:

Sectional slotting knives:

Standard slotting knives length:

Min./Max. slotting knives length:

200 – 700 mm (8 – 27 1/2")

3300 x 1400 x 1600 mm (130 x 55 x 63″)